M62 and M66 delays after car fire, crash and severe weather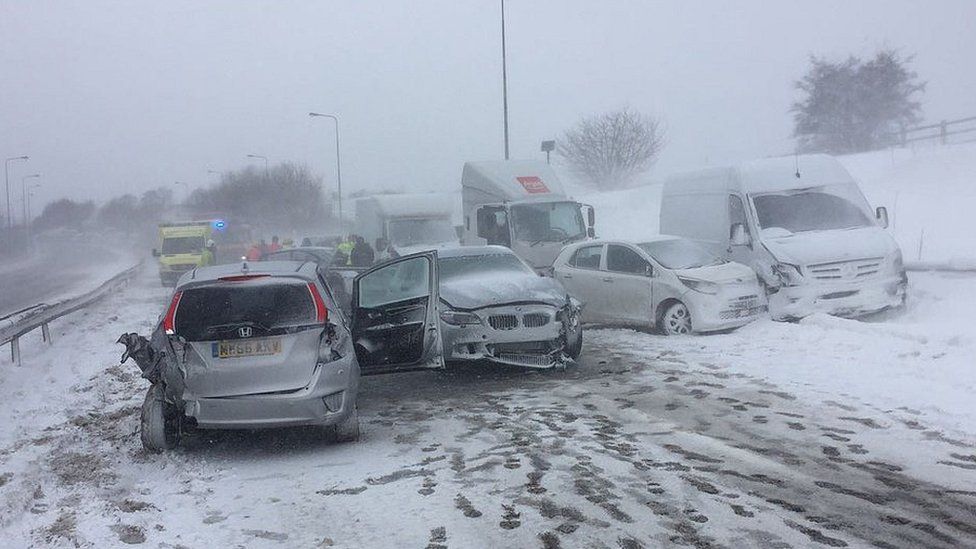 One of the main motorways in the north of England is closed due to a combination of snow and high winds.
Highways England said the M62 is closed eastbound between junctions 20 to 22 and westbound between 24 to 21.
The eastbound carriageway had reopened after being shut between junction 21 and 22 earlier in the day.
The M66 remains shut near Bury due to a crash involving 16 vehicles. where 20 people were hurt.
Highways England tweeted the M62 was closed due to "significant snowfall, strong winds and a large number of vehicles which are struck in these conditions".
It also said the M66 remains closed between junctions one and two following the earlier collision.
It added in another tweet: "Severe damage to the central barrier and repairs are ongoing, @HighwaysNWEST are on scene. Road conditions remain challenging so pls drive safe tonight."
The earlier problems on the M62 came when a Highways England car caught fire while helping stranded vehicles on the M62 eastbound, shutting it at junctions 21 (Milnrow) and 22 (Saddleworth).
North West Motorway Police have asked those in the queues to remain calm.
Snow and ice have meant the A628 Woodhead Pass and A57 Snake Pass between Manchester and Sheffield have been closed.
Drivers have also been facing problems with severe congestion on the eastbound M62 due it being closed between junctions 18 (Simister Island) and 19 (Middleton).
Highways England tweeted the agency was "pushing as much resource towards the M62 as possible" but "due to the incline [on the motorway], the weather, the standing traffic [and] a vehicle fire, it's proving difficult".
A spokesman said there was "no ETA for reopening" as "once all the vehicles have been recovered, the carriageway will need to be cleared of snow and then gritted".
Highways England also closed a westbound lane of the motorway between junctions 21 and 22 at 17:40 GMT after a van overturned.
They tweeted staff were "attempting to free the people within the vehicle" and warned drivers to "approach with care".
NWAS said there were "20 walking wounded" after the earlier crash, of which two were taken to hospital, and a bus was being used to provide shelter and care for those who could not remain in their cars.
Opera singer Soraya Mafi appealed for help on Twitter because her father, who had "very little immunity" due to cancer, was stuck in a car with a broken heater on his way to a chemotherapy appointment.
My Mum and Dad are stuck on #m66 in #Bury. They were enroute to my Dad's chemo for the day and their heating has broken so are in -5°C condition. He has very little immunity due to his type of cancer. @gmpolice any advice? Any fellow drivers able to offer any help? Thanks!

— Soraya Mafi (@SorayaMafi) March 1, 2018
She later tweeted the emergency services had been "too busy" to help, but thankfully, traffic had "started moving" after three hours and he had rescheduled his appointment.
Several drivers have also tweeted about the issues being faced on the roads.
Weather gets worse 4hrs stuck m62 no signal what's happening. Car has so many icicles next to me. Fire engines went off backwards pic.twitter.com/QBXBJT4Zkn

— Jessica Smith (@MessyJessyArt) March 1, 2018
Elsewhere, trams on the Rochdale and Bury lines of Greater Manchester's Metrolink network have been suspended and Manchester Airport has cancelled 30 flights.
Burnley Bus Company cancelled its regular Witch Way service from Manchester to Burnley but put on three rush-hour specials which will avoid the M66.
Coach operator National Express have also cancelled all services between Manchester and Leeds "until further notice".
Hundreds of schools and colleges are also closed in the region and some councils, including Tameside and Bury, have suspended bin collections and other services.
Related Internet Links
The BBC is not responsible for the content of external sites.