Fred Dibnah Heritage Centre items sold at auction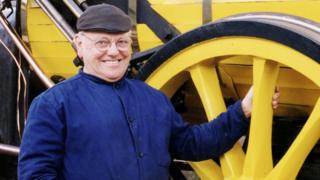 More than 400 items formerly belonging to steeplejack Fred Dibnah, including tools, ladders and an engine, have been sold at auction.
The sale took place at Dibnah's former home in Bolton, which became a heritage centre after his death.
Items sold included sets of ladders, an engine named Kathleen that went for £4,000 and the original boiler from his steamroller Betsy, which sold for £660.
The items were sold by heritage centre owner Leon Powsney, who is retiring.
Straight-talking Dibnah, who died aged 66 in 2004, became an unlikely TV star after he featured in a BBC documentary.
He was known for his daring demolitions of chimneys - with no health and safety gear - and had a passion for steam engines.
His home opened as a museum in 2010.
The auction included tools and machinery from the yard of the house on Radcliffe Road.
Various sets of ladders went for between £400 and £1,000, and other lots included signs bearing Dibnah's name.
One of the quirkier lots sold included pithead gear from a working mineshaft built by Dibnah, bought by a man who wants to set it up at his property.
Mr Powsney, who was unable to find a buyer to keep the museum open, said he had "mixed feelings" over the sale.
"It's very sad but a relief in some ways," he said.
"Hundreds of people are going to own something of Fred's now and treasure it.
"They worshipped him for years and now they can own something of his."