Manchester 'to be plastic free by 2020'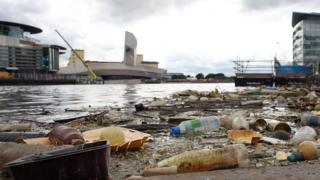 Greater Manchester is aiming to become the first UK city region to ditch single-use plastics.
The campaign, fronted by former footballer and now hotel owner Gary Neville, was revealed at a Green Summit organised by mayor Andy Burnham.
It will encourage businesses and members of the public to switch to alternatives to plastic by 2020.
Other proposals to help the city include investing in cycle paths and building an emissions-free bus fleet.
Hotel Football owner Neville and 43 other hospitality business leaders launched the "Plastic-Free Greater Manchester" campaign at the event at the Manchester Central convention centre.
The ex-Manchester United player said: "Reducing the use of plastics is a key priority for us. We're pleased to add our support."
Mr Burnham said he would help by setting up a consortium to buy reusables in bulk and supply them to small businesses to make the switch affordable.
He said: "People have been horrified by how polluted our oceans and rivers have become through plastic waste.
"But this isn't just happening on the other side of the world. Last week we heard that Greater Manchester's rivers were some of the most polluted. We cannot just carry on as usual - the time has come for action."
Other proposals discussed at the summit included new zero-carbon homes, an emissions-free bus fleet and investing up to £50m a year for three years on cycle lanes and paths.
Environment Agency chair Emma Howard Boyd, who also spoke at the summit, said: "The world's first industrial city can be an economic trailblazer again."