Droylsden 'terrible stink': Waste removal to cost £4m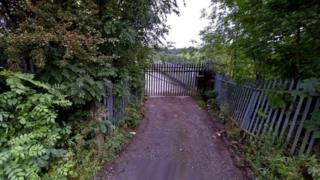 Removing waste from an unofficial waste dump on a farm causing a "terrible stench" will cost £4m, an MP has said.
A notice has been issued on owners of Gartside Farm in Droylsden, Greater Manchester, to stop more waste being dumped and odours causing a nuisance.
Tameside Council said removing the waste was a "priority" but it must wait for the notice to expire on 1 May and sort out the funding.
Land owner Lay Hy Chhung said he was co-operating with the investigation.
Tameside Council said tests had shown that the smell affecting more than 100 homes could cause nausea and headaches but was not believed to be harmful to long-term health.
While the Environment Agency is leading the investigation into the issue, Tameside Council said it was working with Greater Manchester mayor Andy Burnham and Angela Rayner, Labour MP for Ashton-under-Lyne, Droylsden and Failsworth, on a removal plan.
The council said it would be a "complex and costly operation" that should not be at the taxpayers' expense, and it was looking into "short-term public funding which we can look to recoup at a later date".
Ms Rayner said she had asked the government to intervene to help fund the £4m cost of the clean-up.
"Unfortunately, the size of the site and the problem means it will cost a substantial amount... to take action, do the work and clean the site up."
She spoke at her "frustration" at having to wait for the notice to expire.
"It is a private property and we can't just bulldoze our way in, unfortunately."
Tameside Council urged more people to complete "odour diaries" - currently 13 people are keeping them - as it may be "critical in bringing people to justice".
Resident Sarah King first noticed the smell in October. "It's in every room in your house and it wakes you up."