Manchester attack fire crews 'should not apologise'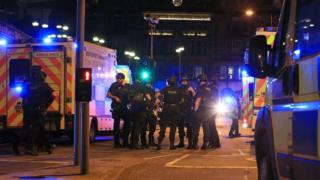 Firefighters on duty the night of the Manchester Arena bombing "did nothing wrong" and have nothing to apologise for, mayor Andy Burnham has said.
Greater Manchester Fire and Rescue Service was criticised for its response to the attack, which killed 22 people.
Lord Kerslake's report said "out of the loop" crews took two hours to attend. Paramedics arrived within 11 minutes.
In an open letter, Mr Burnham said frontline firefighters had been "desperate" to help.
The Greater Manchester mayor said they had "spoken of their shame and even asked for forgiveness" in the wake of the report.
He wrote: "While I understand why people feel like this, it is important for me to say that I think they are wrong.
"No frontline firefighter in Greater Manchester has to apologise for anything. You and your colleagues did nothing wrong on that night."
Suicide bomber Salman Abedi detonated a homemade device as 14,000 people streamed out of an Ariana Grande concert on 22 May.
Lord Kerslake's report said North West Ambulance Service arrived shortly after the blast and was told the incident was a "suicide bomber" by police.
Manchester attack: The victims
Manchester Arena bombing timeline
But it found poor communication meant chief fire officers were "risk-averse" and kept emergency trained responders 500m (1,600ft) away, bringing the fire service - which has since apologised - to "the point of paralysis".
Mr Burnham blamed the "leadership and culture" of the organisation and said he would widen his review to include the service.
He said: "I know that you were desperate to help but were prevented from doing so by decisions taken above you. The failure is not yours but one of process, leadership and culture."
The mayor added that he wanted a culture in the fire service in which staff could raise concerns.
"Difficult as this week has been I think we will look back on it as a turning point in our fire service's proud history when we resolved together to make it a service where the excellence of the frontline staff is matched by everything above."