Intelligence agency GCHQ to open new base in Manchester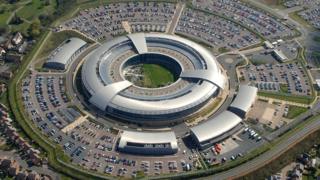 Intelligence agency GCHQ is to open a new Manchester base to put the city at the "heart of the nation's security".
GCHQ said hundreds of new jobs would be created when the new centre opens in 2019.
It will work with MI5 and MI6 to fight terrorism, global threats and organised crime, "using cutting-edge technology".
Director Jeremy Fleming said: "Our new facility will open up a huge new pool of talented, tech savvy recruits vital to our future success."
Mr Fleming said GCHQ had drawn "strength" from the "resilience" of Manchester after the Arena bombing that killed 22 people.
Salman Abedi, 22, also injured 512 people as he detonated his home-made bomb at the end of the Ariana Grande concert on May 22 last year.
'That's how you defeat terrorism'
Mr Fleming said: "Manchester is a city full of talent and innovation.
"It is also a city known for its tolerance and inclusivity, which last year was tragically attacked by someone who had neither.
"In that difficult time, we at GCHQ drew strength from the togetherness and resilience shown by all of Manchester's communities.
"That's how you defeat terrorism."
Sir Richard Leese, leader of Manchester City Council, said: "This announcement will create hundreds of jobs and represents a huge vote of confidence in the potential talent pool of employees in and around Manchester.
"GCHQ perform a vital role in helping to keep the country safe and we look forward to welcoming them to the city in 2019."
GCHQ's headquarters is based in Cheltenham, Gloucestershire, with other offices in Bude, Cornwall and Scarborough, North Yorkshire.
Its origins go back to World War Two when code breakers at Bletchley Park provided vital intelligence to defeat the Nazis.
GCHQ currently has a workforce of 6,000.
Last year the National Cyber Security Centre, which is part of GCHQ, opened its headquarters in London.
Jobs at the new Manchester offices will be advertised later this year.