Droylsden 'stink': Landowner fails to stop dump stench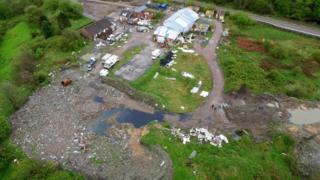 A landowner has failed to comply with a council order to stop an "horrendous" stench from an unofficial waste dump.
A notice issued to the owner of Gartside Farm in Droylsden to stop the smell from thousands of tonnes of food waste expired on Tuesday.
The Environment Agency (EA) wants the polluter to pay for the estimated £1m clean-up but MP Angela Rayner said the government should step in.
Landowner Lay Hy Chhung declined to comment.
The EA is leading an investigation along with Tameside Council and Greater Manchester Police into the illegal dumping of 4,200 cubic metres of food waste.
Lee Rawlinson of the EA agreed the smell was "horrendous".
"What we are trying to is to ensure that the people who have made a profit from the illegal activity are the ones who pay for the removal of this waste."
'Plagued by smell'
However Labour MP for Ashton-under-Lyne Angela Rayner said the row over who should pick up the bill was prolonging the misery for local residents.
She said they have "been plagued by this smell for months and it is not their fault".
The MP added: "I want the government to underwrite the cost and then go after these criminals and make sure they get that money back."
Tameside Council said it had given those responsible 90 days' notice to to stop foul odours causing a nuisance and would now "gather evidence to support the next step of enforcement".
A spokesman said: "The council's primary concern is to find a solution for the residents on this matter.
"Although the council does not have the legal authority to remove the waste from the site, we are fully committed to supporting the Environment Agency with their removal plan should funding become available to them and they contract us to do so."
Ben Wallace, the Minister of State for Security and Economic Crime, said he is in discussions with the EA and Department for Environment, Food and Rural Affairs (Defra) to explore ways of funding the clean-up.