Manchester Arena attack: Bomb 'injured more than 800'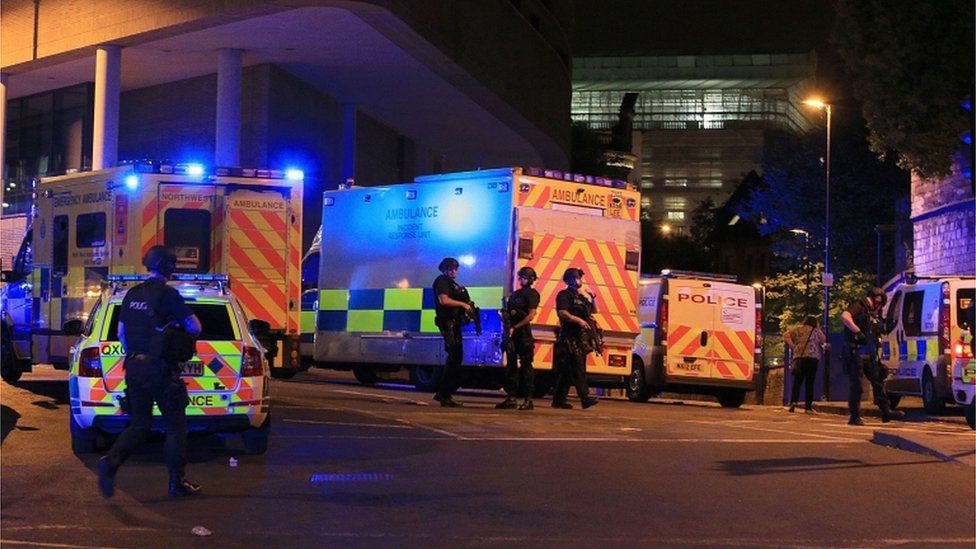 More than 800 people are now known to have suffered physical and psychological injuries after the Manchester bombing, police have said.
Police previously reported 500 people were hurt in the Manchester Arena attack on 22 May 2017 in addition to the 22 killed.
Salman Abedi detonated a home-made device at an Ariana Grande concert.
Assistant Chief Constable Russ Jackson said the night's events would be "forever" etched in the city's history.
"We knew quickly 22 people had been murdered and we now know that there are over 800 people with physical and deep psychological injuries from the attack.
"Their lives have been altered forever," he said.
ACC Jackson said the investigation team had worked hard to support those affected and had been "consistently moved by the grace and dignity they show in trying to repair their lives".
"Of course for many, the loss is too great for them to ever make a full recovery from this terrible event."
One young girl has been left traumatised after seeing the bodies of those injured or killed as she left the concert.
Erin said she has had flashbacks and struggled to sleep after the attack.
She has since had help and said: "I feel much better having the support... it shows such a difference it makes talking to someone about it."
Her mother Annette McNeil said the family had a "really tough" few months.
"For seven or eight months [she] just refused to talk about what she saw," she said.
"I knew she was sad but didn't know she was struggling so much as she hid it amazingly."
Meanwhile, Erin's older sister Caitlin said she has had a "very different" reaction to the disaster. She said it has made her want to do more things.
"I know life is shorter now and can be taken at any time."
The NHS set up the Manchester Resilience Hub (MRH) to help people across the UK affected by the attack, including concert goers, children, families and emergency workers.
It provides a central point for mental health advice and support to help people receive appropriate care from services close to where they live.
MRH said it contacted more than 6,000 people who bought tickets for the concert offering them a wellbeing screening programme which allows them to determine how they are feeling and if they need further help.
It said more than 3,000 people completed the screening and/or received further help.
ACC Jackson gave an insight into the size and scale of the investigation almost a year on from the suicide bombing.
A team of about 100 investigators are still working full-time on the murder investigation "preparing for a trial".
So far during the investigation, 2,000 witness statements have been taken, thousands of hours of CCTV examined, and officers have completed a fruitless search through 11,000 tonnes of rubbish at a landfill site in Bury for a blue suitcase used by Abedi.
Related Internet Links
The BBC is not responsible for the content of external sites.