Manchester group wants £350k national 'skateboarding excellence centre'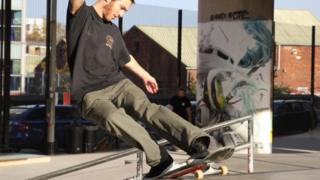 A community group hopes to create a "national centre of excellence" for skateboarding in Manchester.
Community group Projekts MCR has made a planning application to extend its current skate park to a £350,000 centre to teach the new Olympic sport.
It also wants to use the centre to encourage people to use skateboarding to commute to work or college.
The application to the city council includes plans for new fences, a larger skating surface and a teaching area.
The London Road site in the city centre would also be expanded to include a new viewing deck, cafe and beginners' area.
Projekts MCR chief executive John Haines told the BBC: "The plan is to create the first centre of excellence for skateboarding in the country, although this would have to get approval from Skateboard England.
"There are areas in the city where skateboards are banned but we do want to encourage people to use skateboarding as a form of transport.
"There are many smooth pavements in Manchester but we do think people could use bus lanes to skate."
Manchester City Council used to run the park but in recent years it has been rented to Projekts MCR.
The park is currently split in two by a closed road but the plans call for them to be joined together.