Manchester runner's heart-shaped GPS tribute to Manchester attack victims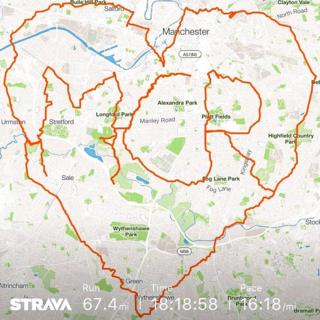 A long distance runner spent 18 hours tracing a 67-mile heart-shaped GPS tribute in memory of those who died in the Manchester attack.
Nathan Rae battled the 108 km route around the city - stopping briefly for lunch - and raised more than £3,000 for the North West Air Ambulance.
The 37-year-old began in Sale at 07:30 BST on Tuesday and finished in Heaton Moor just after 01:00 on Wednesday.
The resulting GPS image has been shared thousands of times on social media.
Manchester marked the first anniversary of the May 2017 bombing on Tuesday, with a cathedral service and sing-along held in memory of the 22 victims.
Mr Rae, who wanted to do something to mark the occasion, described the response as "amazing".
He said he initially considered drawing a bee-shape in tribute to the city's famous worker bee symbol, but "could not see the shape in the roads"
"It worked better to do the heart and letters," he added.
His route passed by Old Trafford, Manchester Royal Infirmary, Wythenshawe Hospital, the Trafford Centre, Salford Royal Hospital, Manchester Arena and the Etihad Stadium.
The marathon runner, who trains with Chorlton Runners, also encouraged people to join him and said an "amazing range" of people came out to meet him.
"I was going past accident and emergency departments that had responded to the attack last year and nurses came out to meet me," he said.
"A six-year-old boy named Alfie also came and ran 300m (984 ft) with me down to the end of his road, and two friends joined me for the last 20 miles."
He said the heat and trying to stay connected to technology so people could meet him were the biggest challenges.
Mr Rae had planned to stop off at Manchester Arena at 22:31 to mark the exact time of the bombing, but said he "miscalculated" the route and arrived at at 23:30.
"It was very poignant. When I got there we had a moment of reflection," he said.
"I've got some ultra marathons coming up but nothing else like this, as I don't think I would be able to top it."