Rosemary Carroll: No action against Lancashire councillor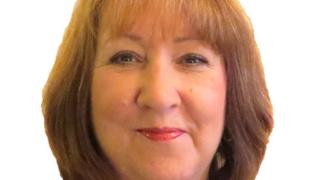 The Conservative Party will not challenge the reinstatement of a Lancashire councillor who was suspended for sharing a racist joke on Facebook.
The BBC understands no action will be taken following an internal investigation.
Councillor Rosemary Carroll's return to the party earlier this month handed the Tories control of Pendle Borough Council by a single seat.
The party declined to comment about its decision.
Ms Carroll, who previously served as mayor of Pendle, was initially suspended for three months in June 2017 after sharing the joke, which compared an Asian person to a dog.
Speaking at the time, she said she had done so by accident and had intended to delete it.
An independent investigation on behalf of the council found Ms Carroll had failed to comply with its code of conduct.
The post was found be "derogatory and insulting to benefits claimants, and also racist," the report found.
It also constituted "a failure to treat people with respect and falls short of the high standards of leadership and example expected of all councillors", the report said.
After her suspension expired, Ms Carroll continued to sit as an independent councillor for the Earby ward but re-joined the Conservative Party shortly before the recent local elections.
The Conservatives now control Pendle with 25 seats, ahead of Labour's 15 and the Liberal Democrats' nine.
Pendle Council leader Mohammed Iqbal described the decision, which followed an investigation by Conservative Party chairman Brandon Lewis, as "deplorable".
"The Tory party says they're against racism but here is someone who makes a racist joke and they will allow her back in at election time," Mr Iqbal said.
"Brandon Lewis and the Tory party are trying to sweep it under the carpet," he said.
Ms Carroll has been contacted for comment.