Manchester MP Lucy Powell: 'Online hate abuse moving offline'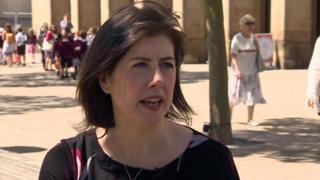 Online abuse has become "so normalised" that it has now moved offline and is "happening on the street", an MP said.
Manchester Central MP Lucy Powell said some social media sites are being used as "platforms for hate", and that being abused in the street was not uncommon.
She called for the law to be changed, saying social media platforms and group administrators must be held to account.
Digital Secretary Matt Hancock said new laws should tackle the "Wild West culture" which exists online.
A BBC search of Labour MP Ms Powell's Twitter account found more than 70 abusive terms, although not all of it was directed at her personally.
"To some extent... if you're in the public eye you do have to develop a thick skin," she said.
"I mute most of it so I don't see it."
But she said some abusive messages, such as those she received in the aftermath of the May 2017 Manchester bomb, were hard to forget.
The extent of the abuse and the "spreading of hate" was very worrying, Ms Powell added.
She said social media groups which may be secret and have thousands of members were a particular problem.
People on these groups can whip each other up and "almost become radicalised".
"This fostering of hateful language and thoughts is now normalised so much it is now happening in the street as well," Ms Powell said.
She said a few weeks ago someone was "incredibly abusive and threatened me" and stopped her getting in her car, adding "that's not uncommon".
Ms Powell said the law has not kept "up to pace" with social media abuse and "needs tightening up".
She said administrators of groups should be "held to account and treated like publishers".
Mr Hancock said the Data Protection Bill, currently going through Parliament, includes an introduction of a social media code of practice.
Online abuse
Six in ten people said they had witnessed inappropriate or harmful content online
Four in ten people said they had experienced online abuse
Four in ten people said social media companies had failed to treat their complaints seriously
Information from the government's Internet Safety green paper