Manchester attack: Ariana Grande's mum shares candle tribute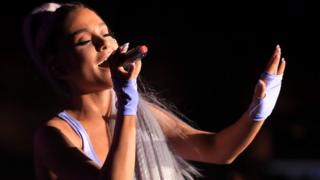 The mother of singer Ariana Grande has shared a picture of the star's family "all together and grateful" on the anniversary of the Manchester attack.
Twenty-two people were killed when a homemade device was detonated outside the star's concert on 22 May 2017.
Marking a year since the atrocity, Joan Grande tweeted an image of her family around a piano adorned with 22 candles.
She said she was thinking of "the strength of Manchester with a bowed head and love in my heart".
Mrs Grande's tweet follows two from her daughter on Tuesday, in which she said she wished she was in Manchester for the anniversary, adding: "Jus wanna hug u so tight today."
Photographer Alfredo Flores, who was with Grande, shared a close-up image of the candles, which were placed on paper hearts with the victims' names written on them and laid next to 22 white roses.
Grande spoke in detail for the first time about the Manchester Arena bomb attack earlier in May, calling it "the absolute worst of humanity", and incorporated a worker bee - which became a symbol of defiance in the aftermath - into the video for her single, No Tears Left To Cry.
While she was not in Manchester for the anniversary, she featured in the day of remembrance, with many who watched the memorial service in Manchester's Cathedral Gardens wearing t-shirts with her rabbit-ear logo on them.
Her song, One Last Time, was also one of four which featured in a mass sing-along in the city's Albert Square later in the day.