Stretford man wanted over handgun found in garden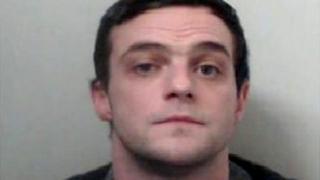 A man is wanted by police over the "alarming" discovery of a handgun in a garden where children had been playing.
National Crime Agency (NCA) officers found the weapon while searching a home in Stretford, Greater Manchester, in October 2017.
Ammunition and a silencer were also uncovered.
NCA regional head of investigations Greg McKenna said police "urgently" need to speak to 30-year-old Dean Anthony Kirby about the finds.
"The circumstances of this seizure were alarming to say the least," he said.
"But in locating it, we have taken one more deadly weapon off the streets and this will have a direct impact in preventing violent crime."
Mr Kirby, who is from Stretford, also has links with the nearby areas of Old Trafford, Sale and Wythenshawe.
Mr McKenna warned people not to help him evade police.
He said: "I would point out that anyone frustrating our attempts at finding him could find themselves being arrested themselves for the offence of assisting an offender.
"This is a serious offence which could be punishable by a prison sentence."