Murder arrest after car hits people outside Stockport club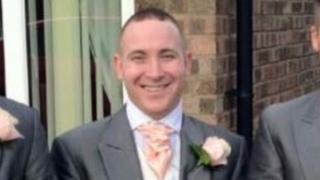 A man has been arrested on suspicion of murder after a car hit a group of people outside a club, leaving one man dead.
Nathan Marshall, 30, died and two men were injured outside the Salisbury Club in Truro Avenue, Stockport on Sunday.
The car believed to be a black Audi A4 was found abandoned in the middle lane of the M60, police said.
Mr Marshall's parents said their son "lit up the room" and described him as "kind and loving".
He died in hospital while two men, aged 31 and 33, suffered minor injuries in the incident at about 22:45 GMT.
Paying tribute to Mr Marshall, from Reddish, Stockport, his family said he was a "wonderful friend to the many people who knew and cared about him".
"Living without him will be the hardest thing we will do as a family and we are devastated by our loss," they added.
Alison Black wrote on Facebook that her daughter had lost her "best friend" and Mr Marshall was "loved by many".
Det Insp Andy Butterworth said officers were still gathering information "which can help explain this man's last moments and provide his family with the answers they deserve".
The 30-year-old arrested man remains in custody, police said.