Closing Warrington & Vale Royal College campus 'a huge loss'
By Phil McCann
Cheshire Political Reporter, BBC News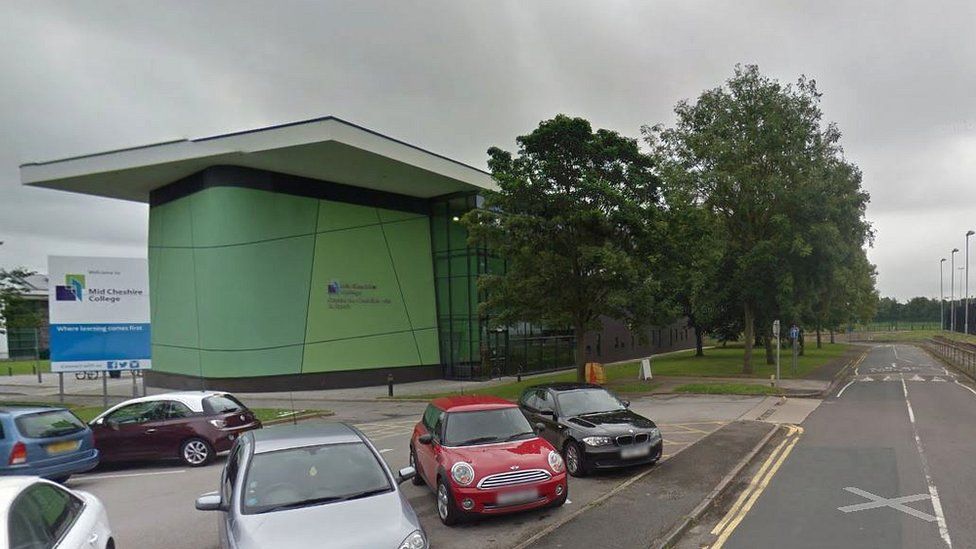 A Cheshire college has been criticised for a plan to "decommission" a campus six years after spending £10m on brand new buildings.
Warrington and Vale Royal College said its Hartford campus near Northwich was "seriously under-utilised".
In a letter, Northwich mayor Janet Myerscough-Illidge said closing "state-of-the-art facilities" built in 2012 would be a "huge loss".
The college said the plan would ensure it is "financially sustainable".
The site on Chester Road was previously the main campus of Mid Cheshire College before it merged with Warrington Collegiate last year to form Warrington and Vale Royal College.
A construction skills centre, sports facilities and performing arts building with auditorium were opened as part of a major refurbishment project.
The further education college's governors unanimously voted in March to "decommission the majority" of the site by moving all but two courses to other campuses at Winsford and Warrington.
Ms Myercough-Illidge wrote to college principal Nicola Newton on behalf of Northwich Town Council to ask that "no irreversible decisions" were taken over the future of the buildings.
"It would be a huge loss to Northwich if a decision was taken that meant that this campus could not re-open should the fortunes of the college change," she added.
Weaver Vale MP Mike Amesbury said the sale had been proposed to "plug funding gaps for the rest of the college".
"This has been nothing short of vandalism of the further education sector in Northwich on the college leadership's part", he added.
In a briefing sent to local politicians, the college said the Hartford campus was under-used because of the "poor reputation" of the former Mid Cheshire College, and a large number of students who had left because of "poor behaviour, low work ethic and poor performance".
A final decision will be made after a review of the plans, a college spokesperson told the BBC.
"Following the completion of the review, the college's Board of Corporation will be presented with a range of options available to them in respect of the partial or full closure of the campus."
The college said 56 jobs are at risk.
Related Internet Links
The BBC is not responsible for the content of external sites.