Wythenshawe cars vandalised near Manchester Airport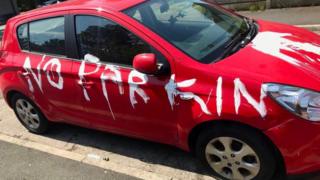 Cars parked on streets close to Manchester Airport have been vandalised amid recent complaints about drivers leaving vehicles for long periods.
Two cars on Lownorth Road in Wythenshawe had their tyres let down and "No Parking" daubed across their side panels in white paint.
Residents have recently complained about owners leaving cars parked in the area for weeks at a time.
Greater Manchester Police described the vandalism as "completely unacceptable".
The force also said officers would take "positive action" against anyone found to have been involved.
Posting on Twitter, one resident said: "I would be devastated if this was my car. This puts Wythenshawe on the map for all the wrong reasons."
However, a father who did not want to be identified said congestion in the area is an ongoing problem.
His children have been forced to walk on roads after footpaths were blocked by cars, he added.