Duchess of Sussex: Meghan to accompany Queen for first time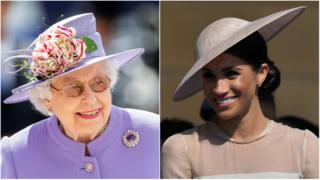 The Duchess of Sussex is to accompany the Queen on a royal engagement for the first time during a visit to Cheshire later this month.
Her Majesty and Meghan, who married Prince Harry in May, will officially open Chester's Storyhouse Theatre and the Mersey Gateway Bridge on 14 June.
A Royal spokesman said they would also attend a lunch at Chester Town Hall.
It will be the first time the duchess has joined the Queen for an event without her husband.
The couple attended a garden party at Buckingham Palace on 22 May for their first royal engagement as a married couple.
The £37m Storyhouse Theatre opened in May 2017 following a two-and-a-half-year project to transform the city's former Odeon cinema.
The Mersey Gateway Bridge, between Runcorn and Widnes, opened in October and has been subject to controversy over its tolls.