Criminal who taunted police will return to 'face music'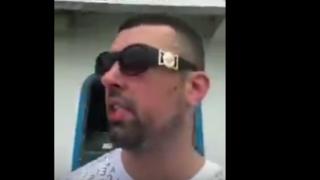 A convicted drug dealer who mocked police online after fleeing the country to avoid a court appearance said he will return to "face the music".
Sam Walker, who admits having about 100 convictions including for drugs offences, documented his escape in a video posted online this week.
He told the BBC he is now in north west Africa, working with people affected by poverty.
Cheshire Police is investigating his whereabouts.
Walker, who said he served years in jail for offences including assaulting a police officer, said he fled to avoid a court appearance over an alleged disqualified driving offence.
He now claims to be in Freetown, the capital of Sierra Leone, saying he first visited the country earlier this year as his grandfather was born there.
In the video he posted on social media, Walker told police "better luck trying to catch me next time I go out the country".
Walker said he is now working with slum residents to improve the supply of drinking water, and to have paid for a shipping container of food, clothes and toys to be delivered.
He said he "would have faced up" to his court appearance if it had not coincided with the delivery of the shipment.
"At some stage I'm going to come back and face the music, of course, but I have a vision of what I can do in this country and I want to do that first," he said.
"As soon as I have completed this project, I'm more than happy to come back."
Asked why he taunted police in the video posted online, he said: "Me and the police have got a chequered history. I like to wind them up."
While he disputes the driving offence for which he faced court, Walker said: "I've been guilty of most of what they say I've done."
In a statement, Cheshire Police said "We can confirm that Sam Walker failed to appear at Chester Magistrates' Court on 20 April in relation to a disqualified driving offence.
"Enquiries have been ongoing into Sam Walker's whereabouts since he failed to appear... we are aware of the social media post and are reviewing it."