Manchester canal towpath to be sealed at night after deaths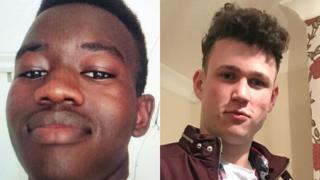 A stretch of canal towpath is to be closed off at night following the deaths of two teenagers in Manchester.
The body of Orlando Nyero, 19, was found in the Rochdale Canal on Wednesday. In March student Charlie Pope was found dead in the same place.
Authorities will immediately put gates up to seal off parts of the towpath near bars after 22:00, Manchester Water Safety Partnership said.
Charlie's father Nick Pope said "you've got to protect people from themselves".
Charlie, 19, from Northumberland, and Orlando, of Bolton, both went missing after nights out in the city centre.
Councillor Pat Karney, city centre spokesman, welcomed the move to seal off key access points to the canal near where bars are located, including those close to Locks 89 and 90.
"We've got Parklife [festival] this weekend, we've got thousands of young people coming into the city centre", he said.
He said the "emergency action" would help prevent further deaths but more permanent changes must be dealt with by the Canal and River Trust, owner of the canals.
A review of further safety measures was also agreed by the water safety partnership, a body comprising Manchester City Council, the trust, the police and the fire service.
Mr Pope has been campaigning for greater safety measures along the canals.
He said: "Where you go past the lock on Whitworth Street is completely unguarded, pitch black and dangerous. You've got to protect people from themselves.
"It's not enough to say they shouldn't get drunk... these bars have been brought down to the edge of the canal and young people are going to have a drink," he said.
About 32,000 people have signed his petition for barriers around the canal area.
Sacha Lord, Greater Manchester's night-time economy advisor, said: "If you look at Manchester from above, we're surrounded by water... and there have been over the years quite a few people fall into the canals."