Taylor Swift fans angry over Ticketmaster seats switch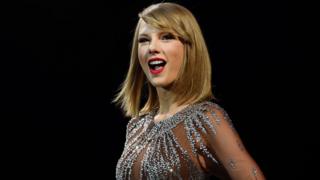 Taylor Swift fans who paid up to £250 to sit in the front rows of her Manchester shows have been left "very annoyed" after Ticketmaster moved them to new seats further from the stage.
The company contacted some fans on Wednesday to say they had changed their seats on Friday and Saturday.
Sarah Day tweeted that she had been moved from "Row 1 block 128... to Block 109 at the back".
The firm said "changes in production" meant "some seats had to be moved".
Ms Day said her 10-year-old daughter was "devastated" and she was "gutted".
She added that she was "hoping it will be resolved but determined to still have an amazing time".
Natalie Bavis, from Liverpool, said she was "so excited" to get "platinum" seats for herself and a friend at the Etihad Stadium shows and was "very annoyed" at the "unfair" change.
The 26-year-old said after complaining to Ticketmaster, she had been given tickets priced at £132 each in the standing "snake pit" area next to the stage, but "will not be refunded the £236 that I paid in excess".
"I will try to enjoy it [but] will feel bitter", she said.
"It's not fair the way they're treating people."
Tickets in rows F and G in the seated blocks nearest the stage, priced at £132 each, are still available from the ticketing firm.
Ticketmaster have not commented on the situation, but in a statement to ticket holders on their website said it was "sorry again for any inconvenience caused, and we hope you enjoy the event".
Representatives for the singer have been asked for a comment.