Plans for Heaton Park memorial for Somme dead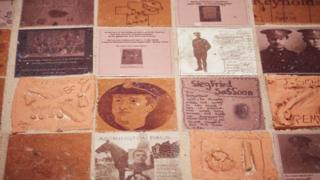 A permanent memorial for those who died in the Battle of the Somme has been designed for a Manchester park.
The mosaic-style tribute would feature more than 300 tiles which were made to mark the centenary in 2016 and could be placed in the city's Heaton Park,
The park was used as a training ground for Army recruits during World War One and later as a military hospital.
Manchester City Council drew up plans for the memorial which, if approved, could be installed in November.
Councillor Luthfur Rahman, executive member for schools, culture and leisure, said it would be a "fitting" tribute to those who died.
He added: "It will ensure their stories and our memory of them are never forgotten."
The five-month Battle of the Somme was one of the deadliest battles of the conflict. A total of 19,240 British soldiers were killed and 57,470 were injured on the first day of the battle alone.
The memorial is intended to acknowledge the park's World War One history and its role in the centenary commemorations.
Heaton Park hosted an educational event in July 2016 which charted the battle and first day of combat.
People were invited to design a "memory tile" featuring images and messages paying tribute to those affected by the battle.
A total of 5,000 tiles were made and laid in the park to form a 100m (328ft) temporary path. Some of these will now be recast in porcelain for the memorial.
The plans are due to be discussed by the council's planning committee.