Parklife: Man in 'tangle' sends police a thank-you note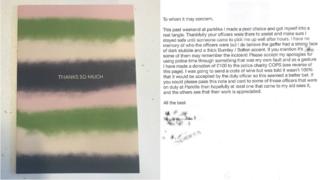 A man whose "poor choice" saw him get "into a real tangle" at a recent music festival has sent a thank-you note to the police officers who kept him safe.
The Leicestershire man, who has not been named, apologised for wasting police time at Parklife in Manchester over "something that was my own fault".
He included a £100 charity donation after being told police may not be able to accept his "crate of wine" present.
Greater Manchester Police said it was "pleasing to get positive feedback".
A spokeswoman said the card had been sent to the force's Ch Supt Graeme Openshaw, who was in charge of policing the event.
The man wrote that he had "no memory of who the officers were", but thought the "gaffer" had a "strong face of dark stubble and a thick Burnley/Bolton accent".
He added that he hoped "at least one [officer] that came to my aid" saw the card "and the others see that their work is appreciated".
You may also like
Ch Supt Openshaw said that while he did not know "what 'tangle' this man was in, it's always pleasing to get positive feedback from the people who we are there to serve and protect".
"Our priority is to make sure people can attend events like Parklife safely and go home with great memories," he added.
Parklife, which took place in Manchester's Heaton Park on 9 and 10 June, saw thousands enjoy sets from artists including Liam Gallagher, N.E.R.D., The xx, Lorde, and Skepta.