Arrests over Salford mother and son doorstep shootings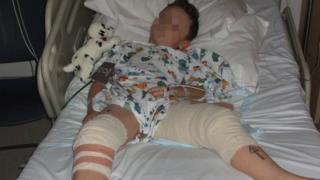 Eight men have been arrested after the shooting of a seven-year-old boy and his mother on their doorstep and a linked shooting at a car wash.
Jayne Hickey, then aged 30, and her son Christian were both shot in the legs when two men knocked on their front door in Salford on 12 October 2015.
The arrests were in raids in Salford, Stockport and Somerset. Four men were also produced from prison.
The raids were also in connection with a Wigan car wash shooting in 2015.
A 31-year-old man was seriously injured at the car wash in Ashton-in-Makerfield.
The doorstep shootings were linked to armed gang feuds in the city including the murder of Salford's "Mr Big" Paul Massey.
Both victims were taken to hospital and had to undergo numerous surgeries before being discharged.
Greater Manchester Police said five men were arrested in connection with the shooting of Christian and Jayne Hickey; two were arrested over the car wash shooting; and one man, a 48-year-old produced from prison, was held in connection with both incidents.
Those detained are being questioned on conspiracy to commit murder and/or perverting the course of justice.
Det Ch Insp Carl Jones said: "It has been almost three years since a young boy and his mum were shot on the doorstep of their own home in an incident that shocked members of the public nationwide.
"We have had a team of detectives working meticulously ever since and today's warrants have come as a result of their hard work.
"As well as that particular incident, we have made a number of arrests in connection with a linked shooting that took place at a car wash in Wigan months before and left a man requiring hospital treatment."