Manchester Airport drop-off charges to be introduced from 10 July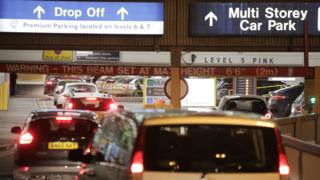 People driving friends or family to Manchester Airport will be charged to drop off directly outside terminals from 10 July.
The airport confirmed that drivers would be charged £3 for five minutes or £4 for ten minutes to stop outside terminals and the railway station.
A spokesman said the aim was to ease "growing congestion" and that anyone found "circling" faces a £25 penalty.
Motorists and taxi drivers expressed anger at the move.
Paul Brent, chairman of the National Taxi Association, said it was "a money-making exercise" by the airport that could "put taxi drivers off".
Private hire taxi drivers who are frequent users of the airport will be offered a discount of up to 40%, while blue badge holders will not be charged, the airport said.
But Mr Brent said drivers "might refuse" a fare "knowing that's £3 or £4 I've lost before I take the job".
"But to be fair, I would say we have to give it many months to evaluate properly whether it has a positive effect," he added.
One passenger, David Jeffery, said on Twitter: "I've always used the airport, but now I'd consider travelling to get a better deal."
Others agree that traffic is a problem at the airport. Hamzah Bhuta said: "That's true. Too much congestion."
Shuttle bus
The airport is creating a dedicated drop-off point at the long-stay JetParks 1 site in Thorley Lane where passengers will be able to board a free shuttle service.
The 24-hour shuttle bus will operate every 15 minutes with journeys taking between five and seven minutes to all three terminals.
People should take into account the extra travel time, said a spokesman.
Motorists picking up passengers are not affected by the change and will continue to pay £4 for up to 30 minutes in the airport's multi-storey car parks.
Chief operating officer Tricia Williams said: "We are committed to ensuring people can still be dropped off for free" and have "carefully chosen" the location of the shuttle drop-off site "due to its proximity to all terminals and the motorway network."
The airport said proceeds will "go into a new public transport fund" to "improve access to our site for employment opportunities as well as passengers using public transport".
In March, the airport revealed it was planning to scrap its free "kiss and fly" drop-off lanes, saying "extreme congestion" had left its terminal forecourts "broken".
Automatic number plate recognition will be used and drop-off fees will be taken at the exit barrier by card or cash.
The airport said one of the main causes of the congestion was the "high proportion of vehicles re-circulating around the campus".
At peak times, one in five drivers has to do an extra lap of the airport before they can find a drop-off space, even though 84% stay for less than five minutes.
Anyone trying to avoid the fees by lapping the airport will face a £25 fine, the airport confirmed.