Manchester Airport announces £107m dividend windfall for councils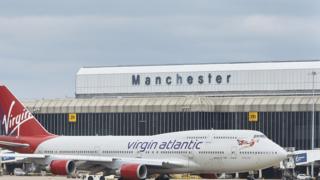 Greater Manchester's local authorities are to share a £107m windfall from Manchester Airports Group (MAG).
The group, which also runs Stansted and East Midlands airports, is nearly two-thirds owned by the 10 councils.
Manchester City Council will get a dividend of almost £59m ($77m) while the nine other will each receive £5.4m.
Manchester Airport chief executive Andrew Cowan said the increase of 18% on last year's pay out was helped by a 6.5% increase in passenger numbers.
A total of 27.9m passengers used Manchester Airport between 1 April 2017 and 31 March 2018, compared with 26.2m in the previous 12 months.
Mr Cowan said the airport was investing £1bn to further increase passenger capacity.
Manchester City Council owns 35.5% of MAG while the other nine Greater Manchester councils collectively hold a 29% stake.
The remainder is owned by independent investors.
More than 70 airlines operate from Manchester, flying to 220 destinations.