World Cup 2018: Extra officers for Manchester World Cup screening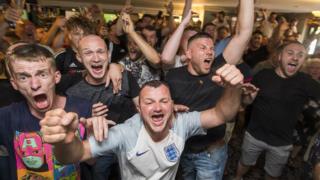 Extra police officers will be deployed in Manchester during England's World Cup semi-final against Croatia.
Up to 8,000 football fans are expected to attend a sell-out screening at Castlefield Bowl on Wednesday.
Police have asked England supporters "not to step over the line and be respectful of others around them".
It follows reports of people climbing on emergency vehicles and blocking buses following the team's quarter-final win over Sweden.
The decision to screen the semi-final was made after Manchester was noticeably absent from TV broadcasts of fans celebrating at fan zones across the country.
Live football has not been screened outdoors in Manchester since the 2010 World Cup, two years after Rangers fans rioted in the city centre at the 2008 Uefa Cup final.
Greater Manchester Police (GMP) Ch Supt Graeme Openshaw, said he understood that people will want to celebrate if England reach the finals.
"But fans have to strike a balance and we'd ask people not to over step the line and be respectful of others around them," he said.
"Unfortunately, we are aware that people have been climbing on emergency services vehicles and blocking buses - not only this dangerous but this is also stopping people from doing an important job."
Figures show there have been 1,086 football-related incidents across England since the tournament began.
Incidents around the country included:
an ambulance car being smashed up when fans jumped on it near London Bridge
a man jumping off the roof of a double-decker bus and smashing through the roof of a bus shelter in Clapham
roads closed in Northampton following disorder
hundreds of people blocking a street in Leicestershire and letting off flares
crowds blocking roads in Southampton and people climbing on buses
disruption in Bridlington, Hull and Cleethorpes as people climbed on bus shelters and vehicles
people smashed up a taxi in Nottingham
'Over-exuberant'
GMP said there would be a "significant" number of officers in the city centre, with some working additional hours or giving up their rest day and time off.
There will also be an increased police presence in other town centres in Greater Manchester for those watching the game in pubs.
North West Ambulance Service (NWAS) also urged people to stay safe after a surge in calls over the weekend.
Deputy Director of Operations, Steve Hynes, said fans should refrain from actions which could cause injuries.
"Many of the less urgent calls we received were for injuries sustained due to 'over exuberant' celebrations," he said.