World Cup 2018: Oldham Council postpones meeting as 'it's coming home'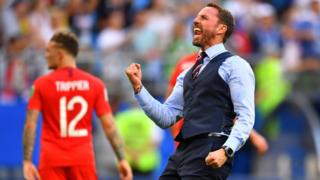 A town's leaders are to play a political one-two to ensure councillors can "cheer on Gareth and the boys" during England's World Cup semi-final.
Oldham's full council was due to meet an hour before Wednesday's clash.
However, the authority tweeted that as football was "coming home", it would see a motion by leader Sean Fielding to "immediately adjourn", seconded by opposition head Howard Sykes.
Subject to approval, the meeting will then be "replayed" 24 hours later.
A spokesman said the "respective skippers" had decided to make the tactical switch following England's win over Sweden on Saturday.
However, constitutional rules meant the meeting could not "simply be cancelled", so a motion to substitute in a new meeting needed to be heard.
Mr Fielding said the decision was "common sense" because it meant residents, officers and members "can now just get on and enjoy the game".
"You can see everywhere around our borough the excitement and pride this England team is inspiring, and it would've been so wrong to ignore that," he said.
"I'm really pleased [we] were able to come up with a quick option to 'postpone' and I'm looking forward to cheering England through to the World Cup final."
England face Croatia in their first World Cup semi-final since 1990 at 19:00 BST on Wednesday.