Stockport woman admits killing dad and burying body in garden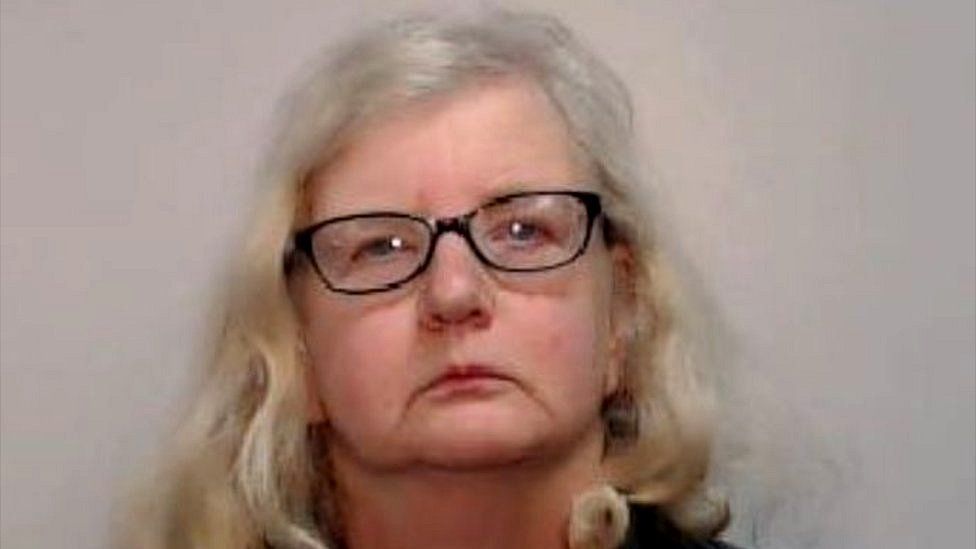 A woman beat her "violent bully" father to death with a shovel and buried his body in her garden after finding his hoard of child abuse images.
The remains of Kenneth Coombes were found in Reddish in Stockport, Greater Manchester, in January.
Barbara Coombes, 63, of Matlock Road in Reddish, pleaded guilty to manslaughter by reason of diminished responsibility at Manchester Crown Court.
She was jailed for nine years by Mr Justice Timothy King.
The court heard Coombes had killed her father in 2006, concealing his body until she walked into a local police station on 7 January and told officers: "I murdered my father 12 years ago."
She had earlier found a box of photographs belonging to the 87-year-old, which contained indecent images of children.
The mother-of-one, who had suffered 40 years of physical and verbal torment from her "formidable" ex-military father, then "snapped", the court heard.
Coombes had been in the garden digging at the time.
Feeling "utterly disgusted and mortified" she walked into the living room of the family home and hit him over the back of the head with the shovel.
When he turned around she then struck him a second time, slashing his throat with the blade edge of the tool.
As he bled to death, she wrapped her father in carpet and put him in the garden before ordering a ton of soil and burying him the next day.
The court heard how Coombes had suffered "a lifetime" of extreme physical and verbal abuse from Mr Coombes, who was described as a violent bully, the court heard.
Psychiatric reports found the she had post-traumatic stress disorder and a severe depressive illness.
Michelle Colborne QC said although the story of abuse Coombes had suffered came from herself, there was evidence to show her account was not "contrived".
Coombes also continued claiming her father's pension and benefits on his behalf, receiving £189,125 over the following 12 years.
At an earlier hearing, she admitted preventing the lawful burial of Mr Coombes and two fraud charges.
The court heard that although she successfully lied to her father's GP, hospital doctors and benefits advisers for more than a decade, "the net began to tighten" in autumn 2017.
A local housing association officer, Lynn Williams, visited the family home to arrange a "winter welfare" visit for Mr Coombes, who by then would have been 99.
Coombes tried to rebuff the visits and suspicions were raised.
It prompted Coombes to walk into a police station in Cheadle Heath and confess to officers.
Related Internet Links
The BBC is not responsible for the content of external sites.