Cabbies' go-slow demo over Manchester Airport rank relocation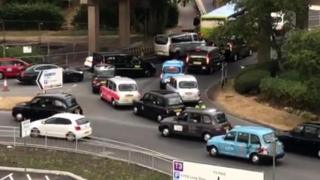 Taxi drivers have staged a blockade at Manchester Airport in protest at the relocation of a cab rank.
Hundreds of Hackney carriage drivers took part in the go-slow demonstration after talks between representatives and airport management failed.
Karl Warburton, who represents 450 Unite members, said the protest was independent of any industry body.
An airport spokesman said it had made a number of concessions and talks were ongoing to find a "fair" solution.
"The airport could easily have avoided this," Mr Warburton said.
Drivers say moving the taxi stand at Terminal 3, among a number of changes introduced on Tuesday, is hurting trade and causing problems for disabled passengers.
Ultimatum
Ali Qureshi from the Airport Taxi Association said that drivers had suggested a temporary rank to airport management but had failed to get a response from them, so the drivers began their protest at 17:30 BST.
Mr Warburton said: "The drivers have spoken and decided they want to hold an independent protest.
"This is a situation of the airport's own making and we believe there was a resolution to be reached."
Taxi drivers staged a protest on Monday, claiming the taxi stand was now a 10-minute walk from the front of the terminal.
"We have been in dialogue with the Hackney carriage community over a number of concerns they have raised about the Terminal 3 rank and believe we have made several concessions in an attempt to resolve the issue," added the airport spokesman.
A spokesman for Greater Manchester Police said officers attended the protest in a monitoring capacity.