'Educating Greater Manchester' head to fight suspension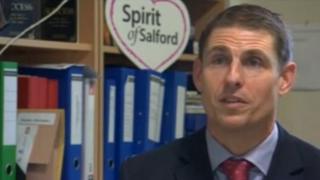 The head teacher of the school in the TV series Educating Greater Manchester has vowed to "clear his name" after being suspended.
Salford City Council said it would not comment after confirming Drew Povey and other colleagues had been suspended from their roles at Harrop Fold School.
About 2m people watched a Channel 4 documentary about the school in 2017.
"What's happened is completely unfair and I'll do everything to clear the school and my name," Mr Povey said.
"I'm speaking to my legal team and will cooperate fully with the investigation."
Councillor Lisa Stone, who is responsible for children's and young people's services at the council, said: "The matter is being dealt with according to the school and council's procedures.
"We cannot comment further but the council is supporting the school to provide stability until the end of the academic year."
She added that their "priority is the students".
Channel 4 announced earlier this year that it would return to the school to film a second series, which will be sold worldwide.
The award-winning Educating documentaries, which have previously focused on Yorkshire, Cardiff and Essex, have won praise for their coverage on the lives of teenagers and teachers.