Petition calls for 'Educating Greater Manchester' head's reinstatement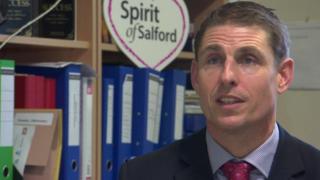 Hundreds of people have signed a petition calling for suspended Salford head teacher Drew Povey to be reinstated.
Mr Povey, head at Harrop Fold High school in Little Hulton, was in the TV series Educating Greater Manchester.
He vowed to clear his name after he and three other members of staff were sent home last week.
The BBC understands the suspensions relate to record-keeping at the school.
Now an online petition has been signed by more than 500 people and a protest is being planned on Thursday.
Steven Mears, who started the petition, wrote: "He has done some amazing things in his time at the school".
He said Mr Povey had turned it into a "respectable school that people now want to go to" and added the head's reinstatement was "vital to current and future pupils".
In a letter posted on the school's website, chair of governors Anne Boyson said Mr Povey and three other staff were "absent from school".
She said it was a "very difficult situation" and she appreciated staff and parents "may have concerns".
The "confidential situation" would be dealt with "as quickly as possible", the letter said.
Second series
Mr Povey, 40, who has been at the school for 12 years has called the suspension "unfair" but said he would "cooperate fully with the investigation".
Salford City Council said it would not comment about the internal investigation but confirmed Mr Povey and other colleagues had been suspended from their roles at the school last week.
About 2m people watched the documentary about Harrop Fold in 2017.
Channel 4 announced earlier this year it would return to the school to film a second series, which will be sold worldwide.
The award-winning Educating documentaries, which have previously focused on Yorkshire, Cardiff and Essex, have won praise for their coverage on the lives of teenagers and teachers.