Andy Burnham calls Northern train cancellations 'outrageous'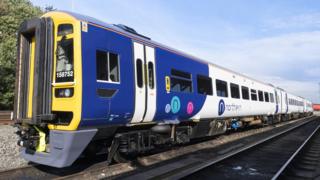 A rail firm has been accused of "giving up on trying to provide a decent service" after it cancelled at least 170 services on World Cup final day.
Greater Manchester mayor Andy Burnham criticised Northern and said the situation was "outrageous".
A Northern spokesman apologised, saying a lack of staff may have been due to the final being held on Sunday.
Drivers are not required to work on a Sunday and can give a week's notice if they do not want to work, he said.
Mr Burnham described it as a "lack of foresight in seeing an obvious problem coming".
"Of all the excuses given by Northern in the past few months, this has to be the winner," he said.
"It is almost like they have given up trying to provide a decent service."
The Northern spokesman said: "Unfortunately we have a set number of drivers and conductors, there's nobody else to bring in as they have to be route trained."
The possibility of Sunday disruption was announced on Friday.
Northern said it had spent the working week trying to find staff and did not tell passengers earlier as it wanted to give them the correct information.
The operator's spokesman said it had "more than enough" drivers to operate "under normal circumstances".
He suggested the staff shortage was due to the fact England could have been in the World Cup final.
Travel watchdog Transport Focus said Northern's "failure to clearly communicate" its disruption "left passengers mystified".
Chief executive Anthony Smith said: "While it was helpful that Northern released a statement on Saturday, the lack of clear information at stations and online was unacceptable.
"Long suffering passengers have been let down once again."
Wigan MP Lisa Nandy tweeted it was "so poor" coming after "weeks of chaos".
Passengers also shared their frustrations on social media.