Manchester students deface poem by 'racist' Kipling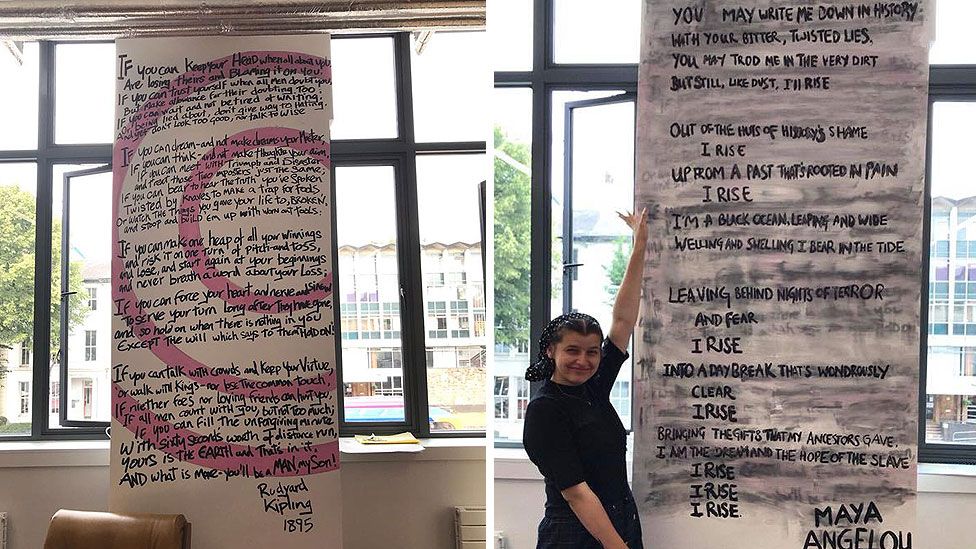 Students have defaced a mural featuring Rudyard Kipling's If in a stand against his "racist" work.
The author's 1895 poem was painted on a wall of Manchester University's newly renovated union building.
But student leaders erased the work, replacing it with a piece by Maya Angelou in a bid to reverse "black and brown voices" being written out of history.
The union has apologised for failing to consult students on its choice of poem.
Riddi Viswanathan, student union diversity officer, said elected members representing students felt Kipling was "not in line with our values", singling out his poem The White Man's Burden.
"It's important for us to represent the voices of black and brown students, which is why we felt Rudyard Kipling's poem was completely inappropriate," she said.
But Jan Montefiore, professor emeritus of 20th Century literature at Kent University and author of a 2007 book on Kipling, said it was "terribly crude and simplistic to dismiss Kipling as a racist".
If was painted on the wall of the Leaders Lounge after being commissioned by permanent union staff as part of renovations to the building, which is named after South African anti-apartheid campaigner Steve Biko.
The work was painted white on 13 July before being replaced with Angelou's Still I Rise, which was chosen by the union's executive committee, on 16 July.
Sara Khan, liberation and access officer at the union, wrote on Facebook that Kipling's "racist" work supported the role of the British Empire and Angelou's poem was chosen as a "reclamation of history by those who have been oppressed by the likes of Kipling for so many centuries".
Kipling was born in India in 1865 and worked as a journalist while he wrote many of his early works, which included The Jungle Book, published in 1894.
In 1907, he became the first English-language writer to receive the Nobel Prize for Literature.
You may also be interested in:
Prof Montefiore added: "Certainly his politics were imperialist but that's only half of the story.
"He wrote some wonderful stuff and was a magical storyteller but he wasn't always writing uplifting poems."
Prof Montefiore said Kipling wrote The White Man's Burden in 1899, urging America to administer imperial practices in the Philippines and its sentiment was "completely unacceptable now and fairly unacceptable then".
A spokesman for the students' union said: "We understand that we made a mistake in our approach to a recent piece of artwork by failing to garner student opinion at the start of a new project."
The spokesman added it would introduce "relevant and meaningful" art across the building in the coming months and the painting of Angelou's work was "a brilliant start to that initiative".
The University of Manchester said the union was independently operated and it had no comment to add.
Related Internet Links
The BBC is not responsible for the content of external sites.