Manchester Arena attack: Tributes preserved online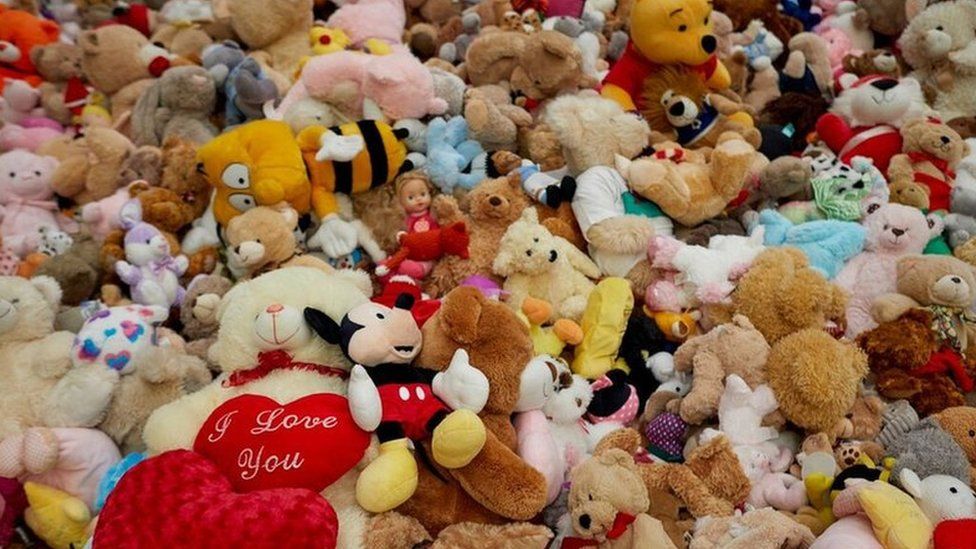 Thousands of items left as tributes to the Manchester Arena attack victims are to be recorded in a digital archive.
The archive will document 10,000 objects - including soft toys, lanterns and a guitar - held at Manchester Art Gallery which were left across the city after bomb attack on 22 May 2017.
The online collection is funded by a National Lottery grant of £99,700.
It is part of keeping the promise to "never forget" the victims, city council leader Sir Richard Leese said.
Twenty-two people were killed and hundreds injured when a bomb was detonated at the end of an Ariana Grande concert.
People who left messages and tributes from even beyond Manchester will be able to comment on the online archive, adding detail about why they took part, Manchester City Council said.
The project will also explore possibly using the archive for therapy to help families with the grieving process, the council added.
"In St Ann's Square, we saw the public stand shoulder to shoulder with those who had been most closely affected; an act of impressive solidarity that signified our refusal to give in to hatred", Sir Richard said.
He said those "expressions of solidarity" are "now part of Manchester's rich history" and he was glad they will be preserved.
All the 10,000 objects will also be kept by the city council "indefinitely", it said.
Related Internet Links
The BBC is not responsible for the content of external sites.