Manchester high-rise leaseholders must pay £10k cladding costs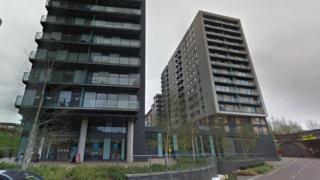 Leaseholders in two high-rise blocks with dangerous cladding must pay more than £10,000 each for its removal, a tribunal has ruled.
Freeholder Pemberstone had argued it should not fund the work at Cypress Place and Vallea Court in Manchester.
Sitting in the city, Judge Wood said the leaseholders' objections may have "merit", but did not "alter or affect" the firm's right to recover the costs.
Leaseholder Amy Wright said the company should consider "what's morally right".
The decision to remove the cladding from the blocks came as a result of the Grenfell Tower fire in June 2017.
The blocks' leaseholders have also been told they must each pay a share of the legal costs for the tribunal, on top of the £10,000 removal fee.
Pemberstone said it had taken the case to tribunal because while it could "in theory" have tried to seek agreement with leaseholders, it would have been "exceptionally difficult" to reach a unanimous agreement, as about 75% of them did not live in the blocks and some were based abroad.
'Kick in the teeth'
Ms Wright, who lives in Cypress Place, said the outcome had not been "totally unexpected", but it still felt like "a kick in the teeth".
"I'd like them to look beyond what's legally written and see what's morally right," she said.
She said she did not know how she would pay and was particularly concerned about the additional legal fees.
"We crowdfunded to respond to their claim - we had no barrister, we represented ourselves [at the tribunal]," she said.
"If we couldn't pay for ours, how can we pay for theirs?"
A Pemberstone spokesman said the firm would consider "carefully and sympathetically how any payments can be structured to spread the cost over time".
It added that it was not involved with the design or construction of the buildings.
The government has previously urged landlords and freeholders to not pass costs of removal work on to leaseholders.