Tameside care home 'did not tell family mother was dying'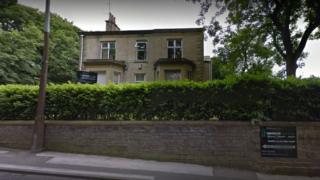 A family did not get chance to say goodbye to their dying mother because staff at her care home did not call them in time, a report has found.
Oakwood Care Centre in Stalybridge made "no serious effort" to inform relatives of her death, the Local Government and Social Care Ombudsman report said.
It also criticised Tameside Council for the "poor" way it handled safeguarding concerns and a complaint by the family.
The council said it had made improvements.
The ombudsman's investigation found "several areas of significant fault" surrounding the death of the woman - referred to as Mrs C - in 2016.
The report said the care provider made "no serious effort" to inform her family of her deterioration or her death and being told the news by police caused a "considerable amount of avoidable distress".
It highlighted failings with the way she was cared for at the time of her death, saying she died in a wheelchair and was probably "not comfortable".
'Inadequate'
The home did not seek medical advice until a few hours before she died and failed to get her examined by a visiting doctor, the report added.
The ombudsman made recommendations to the home and to the council, which placed Mrs C at the home.
It said the authority's response to the family's complaint was "inadequate" and recommended it pay the family £1,500.
A Tameside Council spokesperson said it had implemented the report's recommendations including revising its safeguarding adults policy and updated staff training and was now working closely with the home's new manager.
Ombudsman Michael King said Oakwood Care Centre - which is yet to comment - had since undertaken a number of improvements, introducing an "unexpected death policy and procedure" for staff and new care plans.