Manchester fire: Crews tackle large cash-and-carry blaze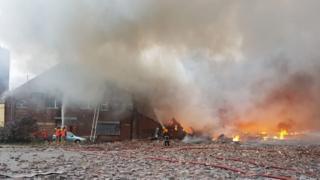 A large fire broke out at a cash-and-carry in Manchester, sending plumes of smoke across the city skyline.
At its peak, more than 50 firefighters were tackling the blaze at Imperial Knitwear Ltd in the Ardwick area of the city after being called at about 19:00 BST on Tuesday.
The incident was scaled down at 23:00 but crews remain at the scene.
The building is unstable and there are road closures in place.
Police said the building had been evacuated but there were no reports of casualties.
A man who was in the Apollo theatre for band practice said he "heard a loud bang" then got a phone call from the landlord of the pub next door saying "the car park is covered in bricks - you better get out of there".
"We saw a couple of cars that were actually flattened by bricks" and one building that had "been flattened by an explosion" and the fire was "inches away from the pub wall".
Station manager Lee Bourne said: "It's been a long night, our firefighters have worked incredibly hard to save the adjoining properties.
"We are now in the process of dampening down the remains of the fire and will be on the scene for the coming hours."
The service added that "there is no information on the cause of the fire yet".
Greater Manchester Fire and Rescue Service said Hyde Road remained closed towards Manchester from Devonshire Street to the Apollo theatre roundabout.
Drivers have been advised to avoid Hyde Road and people have been told to keep their windows shut, especially in the Gorton and Longsight areas.