Manchester paedophile Raymond Leyland befriended couple to abuse girl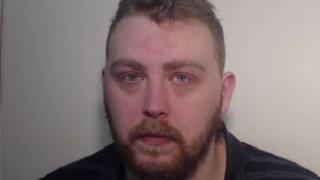 A "predatory paedophile" befriended a couple in order to abuse their daughter just months after he had been released from jail for other child sex offences.
Manchester Crown Court heard Raymond Leyland, 26 and of no fixed address, had been freed on licence in September 2017 after nearly two years in prison.
After making friends with a Manchester couple who were unaware of his past and forming a bond with their seven-year-old child, he sexually assaulted her.
Leyland was jailed for eight years.
One of the conditions of his release last year was for him to stay in a bail hostel in the Chorlton area of the city.
It was then that he got to know the couple.
'Depraved urges'
Within two months, Leyland had abused the girl and told her to keep it a secret.
Det Con Mark Ledger of Greater Manchester Police said: "Raymond Leyland is a predatory paedophile who gained the trust of a young girl's parents so that he could gain access to their child and satisfy his own depraved urges.
"Despite trying his best to get the little girl to suffer in silence, his web of deceit soon unravelled.
"Anyone who could assault a child in such a way has no place in civilised society."
The jury found Leyland guilty of sexually assaulting a child, possession of indecent images, and breaching a sexual harm prevention order.