Rochdale fire: Former mill to be demolished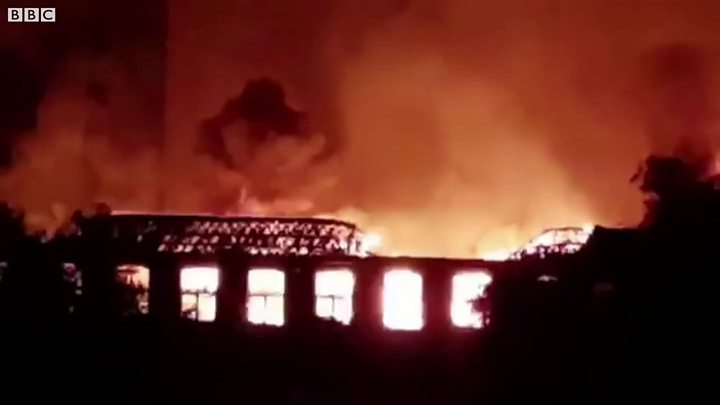 A former mill that was ravaged by a fire overnight is to be demolished.
The fire broke out at Dicken Green Mill, Rochdale, at 22:30 BST on Monday and was attended by more than 50 firefighters at its height.
Greater Manchester Fire and Rescue Service (GMFRS) said the roof of the building had collapsed inwards and crews were arranging demolition to reach the remaining pockets of fire.
Up to 30 homes were evacuated overnight as fire crews fought the blaze.
Residents, who took refuge in Bury and Rochdale Magistrates' Court, were allowed back home after 00:55 BST.
Rochdale fire station manager Nick Hince said: "Seats of fire remain in the building and will be difficult to reach until the building has been demolished.
"Smoke in the area has been reduced and is currently blowing away from local residents but the safety advice remains the same - please keep your windows and doors closed if you live locally."
Mr Hince added: "One side of Queensway has reopened but the other side remains closed so please avoid the area if you can. We are working hard to extinguish the fire completely so please bear with us as we do so.
"Crews will remain at the scene throughout the day but I would like to thank all of our firefighters and partner agencies who have worked throughout the night, helping us bring the blaze under control."
One resident told the BBC the flames were as high as the mill at one stage and he did not wait to be told to evacuate his house.
Simon Gray, whose home is 50m away from the mill, said "We heard the fire crackling to begin with and looked through the loft windows to see how big it was - I was worried it might spread to our house as we've got trees nearby."
The mill on Greenfield Lane is understood to house several businesses.
Fire engines from various stations attended and used handheld jets on the ground and a hydraulic platform to fight the fire from the air.