JWS Waste: Huge fire at Salford recycling plant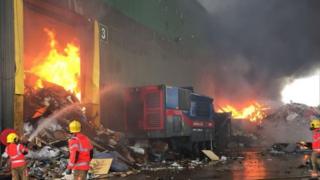 Fire crews have contained a massive fire at a recycling plant.
Greater Manchester Fire Service said the blaze at JWS Waste in Frederick Road, Salford, started some time before 17:30 BST.
Group manager Tony Bryan said "several hundred tonnes of waste involved with the fire" had caused large quantities of smoke.
About 30 firefighters are still at the scene and crews will continue to work overnight, he added.
Fifty firefighters and six fire engines were initially sent to tackle the blaze.
The fire service advised residents living nearby to close windows and doors due to the amount of smoke in the area. It also asked people to avoid the area as there are a number of road closures in place.
Mr Bryan said: "Crews have done a fantastic job in containing the fire and we are working closely with partner agencies to ensure that the fire in under control and are ensuring that there is no further fire spread."
Parts of Broad Street, Frederick Road, Lower Broughton Road, Cromwell Road and Lissadel Street were closed.
Stephen Coen, councillor for Irwell Riverside, tweeted that the fire was "burning aggressively".
The same plant was ravaged by a large fire in 2015.