Manchester airport parking scam foiled by tracking device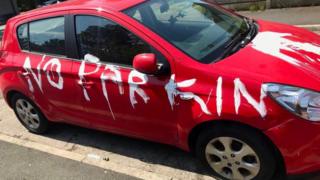 The director of an airport meet-and-greet firm has been fined for parking a customer's car outside his own home - after trading standards officers used a tracking device to follow the vehicle.
Nabeel Khoury's firm insisted the car would be parked securely when in fact it was parked in Wythenshawe, near Manchester Airport.
Residents have long complained about holidaymakers' cars blighting the area.
Khoury, 45, and PPS Manchester Ltd were fined a total of £3,567.
The company was found guilty of engaging in a misleading action at Manchester Magistrates' Court.
Councillor Rabnawaz Akbar, of Manchester City Council, said: "Cowboy meet and greet firms are making life a misery for residents in Wythenshawe and I'm pleased that the courts have found it appropriate to impose a significant fine on this so-called company."
Trading standards observed PPS in 2016, booking a three-day airport parking service through the PPS website.
The firm claimed cars were surrounded by fencing and CCTV and patrolled 24 hours a day by security guards.
When questioned, Khoury insisted the car had been secure outside his home and claimed it would have been moved to a car park if the booking had been for longer.
As the company's sole director he was fined £425, ordered to pay £1,000 in costs and a victim of crime surcharge of £42.
PPS Manchester was also fined £1,000, with £1,000 costs and a victim surcharge of £100.
Asked to comment by the BBC, Khoury said: "I think the fine was unfair. Trading standards are the council's attack dogs."
A Manchester Airport spokesman said: "The airport offers a wide range of car parking facilities and is also well connected via public transport.
"If anyone has any doubts about if their car parking is official from Manchester Airport, they can verify it with our customer services team.
"If using a third party provider, like the company in question here, we'd always recommend using car parks that have achieved the Park Mark status.
"For anyone affected by rogue meet and greet companies, please report it to Manchester City Council."