Residents at Salford Quays apartments 'could face £10k cladding bill'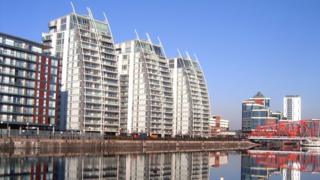 Hundreds of people living in an award-winning apartment complex fear they could each face bills of £10,000 after cladding was found to be dangerous.
The fire service has informed 250 leaseholders at NV Buildings in Salford Quays the three structures' exteriors are flammable.
The developer has launched an "urgent investigation" and insisted the blocks were built in line with regulations.
If nobody accepts responsibility, homeowners may have to foot the bill.
The residents believe the developer should cover the cost but last month, in a similar case, a judge ruled leaseholders were liable.
Other cases have seen developers paying for new cladding, with former Housing Secretary Sajid Javid saying he would like to see other private sector developers follow their example "to protect leaseholders".
However, Countryside Properties, which built NV Buildings, could not say whether it would accept responsibility.
Analysis: Matthew Bone, BBC Political Reporter
Flat owners in the NK Buildings have joined the list of people in similar scenarios being told they may have to pay up - but they claim it's the developer's responsibility.
They argue that if they bought a car and it had faulty brakes, the manufacturer would pay to fix the problem, not the buyer.
All agree that flammable cladding needs to be replaced, but the argument about who pays for it is only just beginning.
David Clifford, who is trying to sell his flat in the complex, said: "We really want Countryside Properties to come forward and do what morally is the right thing to do."
Another resident, Sophie Nicholls, said this news had come just three weeks before her wedding and was causing her sleepless nights.
She said she would have to "beg" and "borrow" to raise the money and her partner was working extra hours.
More than 70 high-rises across Greater Manchester have been found to have cladding similar to that found on Grenfell Tower in London.
A spokesperson for Countryside Properties said: "Safety is our priority. At the time of completion, NV Buildings received all relevant approvals."
He said that the firm was taking the residents' concerns "very seriously".
"We have launched an urgent investigation with the design team, requesting a comprehensive review of the building's design and construction," the spokesman continued.
"This process is ongoing and we will keep residents informed on the outcome of the review."
The apartment block has won awards for architecture and design.