HMP Forest Bank's 'most trusted' security manager stole from jail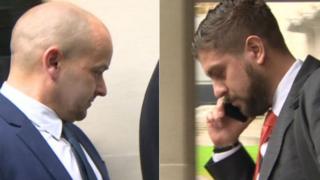 A prison's "most trusted" security manager has been jailed for stealing CDs, DVDs and games worth over £100,000 from the jail.
Carl Byron, 37, and accomplice Anthony Bradbury, 31, took thousands of items while searching shipments coming into Salford's HMP Forest Bank.
Prosecutors said Byron was a member of the jail's corruption prevention team.
They were jailed for two years and 10 months and two years and two months respectively at Manchester Crown Court.
Byron, of Manchester Road, Over Hulton, and Bradbury, of Haslam Street, Bury, both pleaded guilty to theft and money laundering.
More stories from the North West of England
The Crown Prosecution Service's Rachael Barber said Byron and Bradbury - who was a security analyst - had been stealing items for several years.
She said the pair would search shipments brought into the prison for inmates to repackage as part of a rehabilitation programme and take items before they were logged.
They would then stash the goods in bags and "simply" walk out of the jail with them.
She said Bradbury "looked up" to Byron, who was responsible for organising searches and believed the pair would never be stopped.
Police found a text from Bradbury in 2017, in which he said he had become "the best thief in the jail", she added.
The items would later be sold online for at least £105,000, but Ms Barber said cash sales meant the actual proceeds could have been much higher.
She said Byron and Bradbury had "abused the positions of trust they held".
"This offending was some of the most immoral and unfair I have come across," she said, adding that proceeds of crime proceedings would now begin to recover the money they made "from this awful enterprise".