Rochdale M&S U-turn over store's move to £80m complex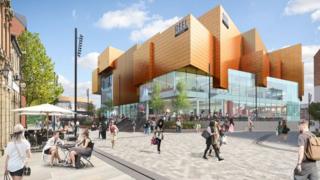 Marks and Spencer has confirmed it will open a store in an £80m Greater Manchester retail complex, nine months after pulling out of the scheme.
The chain decided against opening a flagship store in the Rochdale Riverside development in November 2017.
However, the retail giant confirmed it would now move into the complex after all, after taking "tough decisions".
Rochdale Borough Council said it was "thrilled" the store had "reaffirmed its commitment" to the scheme.
Rochdale Riverside is due to open in 2020 and will also include a cinema, restaurants and cafes.
'Legally binding'
Marks and Spencer previously said it did not believe relocating its Rochdale store to the development was "the right move".
In May the chain announced it would close 100 stores across the UK by 2022.
But the council vowed to continue with the Riverside scheme, and council leader Allen Brett said he "fully expected" the store to honour its "legally binding contract".
Mr Brett said the chain's change of heart was "testament to the huge potential they see in our town and its continuing transformation".
Lisa Rogers, head of region for Lancashire and Cumbria at Marks and Spencer, said the chain was "adapting" its plans to offer customers "better located" outlets.
"This means taking some tough decisions and constantly considering what is best for our customers' current and future shopping needs," she added.
"We're still finalising the plans, but we're pleased to be able to update the Rochdale community that we will relocate to the Riverside development."