Salford fatal fire: Arson death children 'angels in the sky'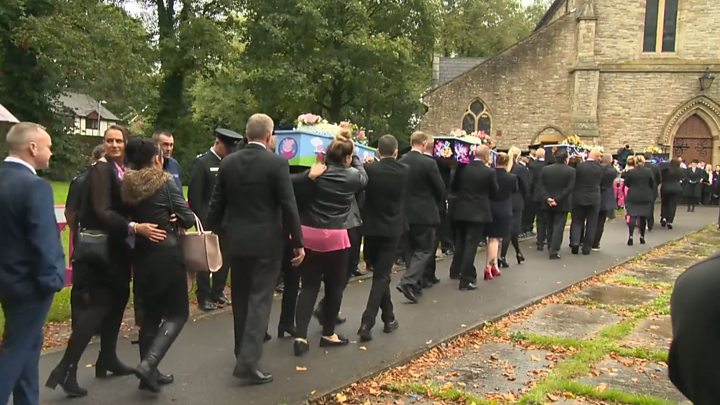 Four children killed in a firebombing attack on their home were described as "angels in the sky" at their funeral.
Demi Pearson, 15, her brother Brandon, eight, and sisters Lacie, seven, and Lia, three, were killed in the blaze in Walkden, Greater Manchester, last year.
Their mother Michelle Pearson, 36, was unable to attend the service as she recovers from injuries suffered in the blaze.
However, mourners heard an emotional speech that was read out on her behalf.
The children were described as: "The twinkle in her eye, now they're angels in the sky.
"One day we will be united forever," added the tribute from the mother-of-six, who has been in hospital since the attack in December.
Grandmother Sandra Lever said Mrs Pearson could not attend the service at St Paul's Church due to "unforeseen medical circumstances".
The service also heard Ariana Grande's version of Somewhere Over the Rainbow being played.
The starting point of the procession was on Jackson Street, where they lived, and paused outside Bridgewater Primary School, where the two middle children attended.
It included bagpipes and drummers, and 200 members of the family and friends following four white horse-drawn carriages.
The carriages arrived in age order, with Demi first, and the coffins were each themed with the children's interests - music, the Avengers, My Little Pony and Peppa Pig.
A private burial, for family members only, will take place after the service.
Mrs Pearson's family said she had wanted to attend the funeral despite still being ill after suffering a series of infections.
She learned that four of her children were dead after coming out of a four-month coma.
The siblings were murdered as they slept in their beds after Zak Bolland, 23, and David Worrall, 26, smashed a kitchen window and threw petrol bombs inside following a feud which prompted a series of tit-for-tat attacks.
Bolland and Worrall were both given four life sentences for murder after a trial in May.
Bolland's girlfriend Courtney Brierley, 20, was jailed for 21 years for four counts of manslaughter.