Manchester Arena attack: Survivors still seeking psychological help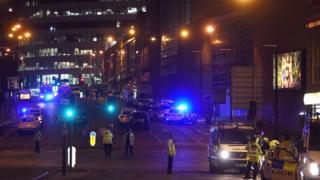 About 3,300 people have accessed psychological support since the Manchester Arena bomb, it has emerged.
Twenty-two people were killed when a suicide bomber blew himself up at an Ariana Grande concert on 22 May 2017.
Since the first anniversary, 172 new referrals have been made to the NHS's Manchester Resilience Hub, a mental health service for those affected.
"Different things are traumatic for different people, but there is help out there," said the unit's Alan Barrett.
The hub focuses solely on helping those directly affected by the bomb, including children and emergency responders.
Dr Barrett, a consultant clinical psychologist who works in the unit, said: "Being caught up in the blast, the delay of finding loved ones, we would expect that would have lasting effects on people.
"People don't seek help immediately because they either are coping or maybe they feel there are more deserving people ahead of them in the queue as it were - bereaved or injured - so they hold back.
"The reality is that this is normal - being on edge, trying to avoid things that remind you of the incident. That's all really normal, but there is help out there."
If you, or someone you know, are affected by mental health issues, these organisations may be able to help.
Roy Martin, from Northwich in Cheshire, had taken his two daughters to see the concert.
The bomber detonated his device as Mr Martin waited for them with his wife.
He said he and his wife saw "a huge flash of yellow, orange and green" and they were both "hit by the blast - you could feel it under your feet, like rolling thunder".
While his daughters got out safely, Mr Martin said it was "fifteen minutes of panic waiting to find out if our daughters had made it out OK".
He said: "I just grabbed them and said 'we've got to get out of here, follow me and run like you've never run before'."
When they heard it had been a suicide bomb, "it really hit home - everyone in the car just broke down, we just couldn't believe that we had made it out in one piece".
In the wake of the atrocity, Mr Martin said the family had all been diagnosed with post-traumatic stress disorder (PTSD).
"It's obviously something that you live with, but you learn to adapt," he said.
"It's nothing to be ashamed of to say you need help. No-one should sit there in silence and think there's no-one out there to help."