French bulldogs theft: Mum feared gang 'would kill baby'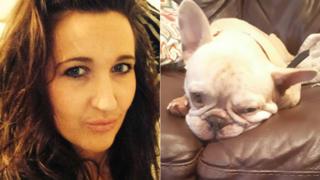 A pregnant woman who had a knife held to her stomach by robbers who stole eight pedigree puppies said she "thought they were going to kill me or my unborn baby".
Leeanne Corbett, 26, was "terrified" as the day-old dogs were stolen from her home in Stretford, Greater Manchester.
She told the BBC the raiders grabbed the biggest knife in the kitchen before shouting: "Where are the puppies?"
Police said three men stole the French bulldogs, worth about £1,200 each.
Ms Corbett and her family have offered a £10,000 reward for their safe return.
The RSPCA said it was vital the puppies are found as soon as possible as they need to be kept in warm conditions and bottle-fed.
Ms Corbett said the thieves also stole an incubator where the puppies had been kept.
"They were four days early and were in an incubator as they are quite small," she added.
The suspects forced their way into the house after knocking on the door at about 21:50 BST on Tuesday.
Ms Corbett said: "They came for the puppies as I'd put it on Facebook.
"One said 'do as you're told and no-one will get hurt'.
"They knew I was pregnant - I can't believe anyone would do that.
"My three boys were upstairs and I was scared out of my wits. I just want the dogs back."
She said the raid had also affected the puppies' mother.
"They need her and she needs them - if she could talk it would break my heart," added Ms Corbett.