Artist Jeremy Deller's £1m memorial for Peterloo Massacre victims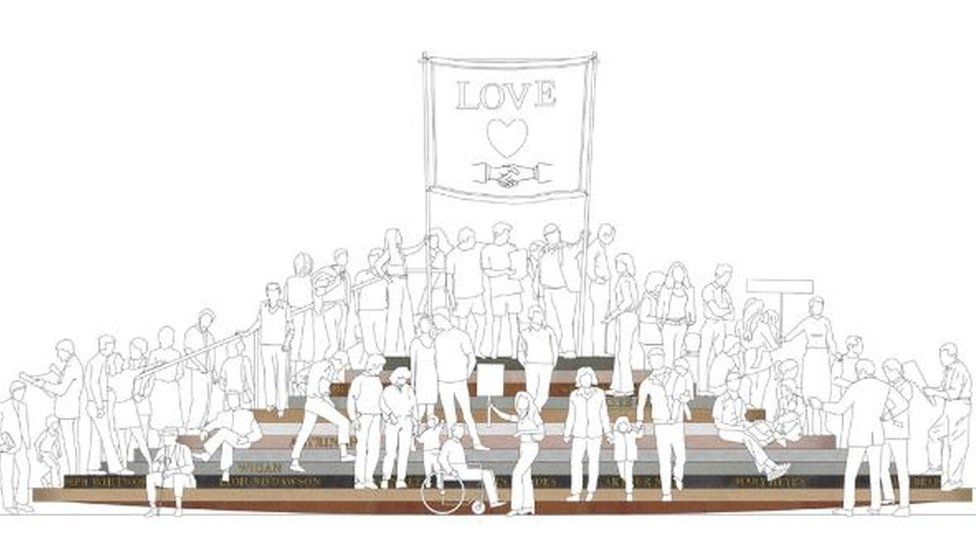 A circular monument costing £1m is to commemorate the victims of the infamous Peterloo Massacre in Manchester.
Turner Prize-winning artist Jeremy Deller has designed the 38ft (11.5m) memorial to mark the 200th anniversary of the killings.
Sabre-wielding cavalrymen charged into a workers' rights protest in St Peter's Field, Manchester, on 16 August 1819 killing at least 11 and injuring 400.
The stepped monument will open next year near the site of the massacre.
The steps will feature the names of those who were killed as well as the towns and villages where they walked from such as Wigan, Rochdale, Saddleworth and Altrincham.
The memorial will be built at the junction of Lower Mosley Street and Windmill Street, near the city's town hall and library.
Mr Deller told the BBC: "It is a monument that's for the public to inhabit - to be one to hang around on and assemble at.
"It is not something to be looked at and not touched - it is something to be on.
"People can meet friends or have their lunch there and learn about Peterloo.
He added: "It is a monument to those who strove for democracy and our working class history.
"Manchester's history is about change, radicalism and the people doing something - it is more egalitarian."
A new Mike Leigh film starring Maxine Peake about the massacre opens at cinemas this week.
Related Internet Links
The BBC is not responsible for the content of external sites.