Bed for every rough sleeper plan launched in Greater Manchester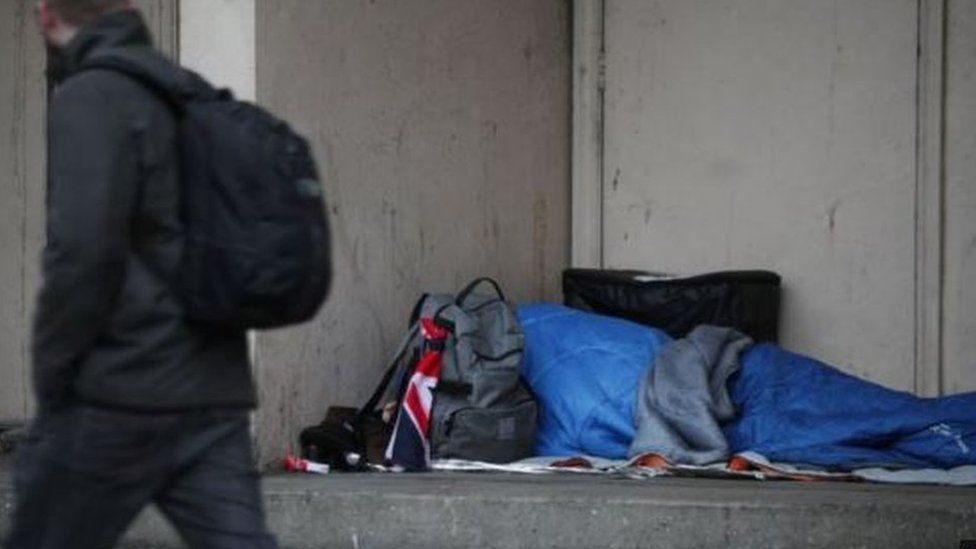 A scheme to provide a bed for every person who sleeps rough in Greater Manchester has been launched.
The aim of A Bed Every Night is to ensure shelter for the estimated 500 people in the region who regularly sleep rough, said Greater Manchester Combined Authority (GMCA).
It will run until March across all 10 boroughs.
Greater Manchester mayor Andy Burnham said it was stepping up efforts to tackle a "humanitarian crisis".
"We should pick people up as soon as they fall - if you let people have a number of nights out [on the streets] there is severe damage done not just to their physical health but their mental health too."
Mr Burnham has made tackling rough sleeping one of his top priorities but said in January the number of people on the streets had actually gone up since he became mayor.
The number of beds at night shelters, however, has nearly doubled since last winter to 350.
Under the scheme, people whose last address was in Greater Manchester can access emergency shelter at a number of sites across the region this winter.
Some shelters will be open 24 hours a day, such as a new temporary night shelter, provided by Riverside Homes, on an industrial estate in Ardwick.
It means people will have access to services, such as registering at GP surgeries, and can stay until they have found a place in more permanent accommodation.
Ricky, a rough sleeper in Manchester, was left with a punctured lung after being attacked in Liverpool.
"When I was in hospital for a week, that was the only bed I've had in seven years. It's not a nice way to have a bed but I enjoyed it.
"A bed now would be nice. Warm for us, as well."
Mr Burnham said A Bed Every Night was an important first step on the road to helping people get off, and stay off, the streets.
"It is not a sticking plaster, but a coherent plan to provide warmth, safety and food in the short-term before working with individuals to help them into our existing homelessness projects."
Mike Wright from GMCA said violence and drugs will not be tolerated at the shelters and where alcohol is concerned, each unit will assess the "risk".
"The critical thing is to get people into services where they can come off that kind of addiction."
The scheme, which will run until March 2019. will be funded by from donations from benefactors and the public, GMCA said.
Related Internet Links
The BBC is not responsible for the content of external sites.